A community of bloggers who live and die to DIY
DIY Canvas Photo Pegboard
What's a home bar without some great photos of friends… old memories you can recount and toast to? For some reason when I walked into Le Carrefour De L'espoir (secondhand shop) and saw this original (yet, let's be honest, ugly) art piece, I knew immediately it's second life would be as a pegboard for our basement bar.
Something about the frame looked 70s-ish, with its slightly yellowed fabric (think smoky cigar lounge). But the faded black and gold accent still seemed right on. I snapped it up for $20. Maybe it was a little pricey (considering), but I really had been looking for a long time knew I wanted something "authentic", vintage, and not new "Made in China" from some retail chain.
TIP: "Every room in your home should have a thing or two that is old, unique, or eclectic."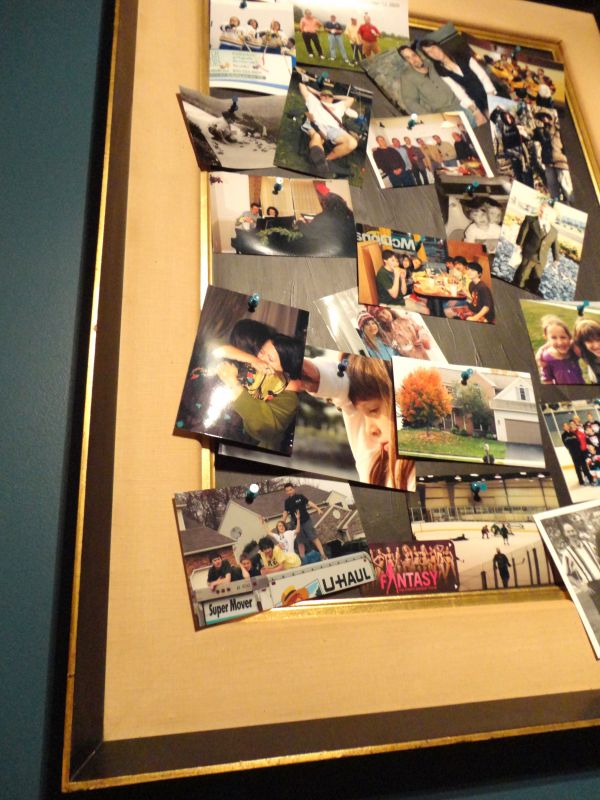 With a paint brush and a tube of black chalkboard paint, I painted over it. I know, I know, you're thinking: "huh?" First, I knew I wanted to paint it black and already had this stuff laying around the house. Second, the painting was done in oil and already textury (OK, that is not a real word, but you get me). So painting with a small brush (instead of a roller) to help even out and add even more texture seemed like a good idea. Third, I knew most of it would be covered by photos anyways, so I thought, "who cares!?"
More bar pics to come soon! Thanks for checking in -Julie
you might also be interested in ….
blog comments powered by

Disqus