A community of bloggers who live and die to DIY
DIY Tales: Beautiful Bench Made from Plumber's Pipe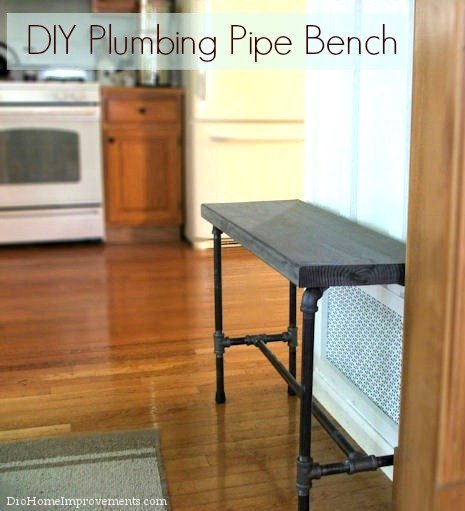 I wanted a bench for my kitchen that was a little industrial. I had seen a table a while back that had pipes for the legs so I decided to make a bench using plumbers pipes.
Supplies I used:
1) 2″ x 12″ x 8′ piece of douglas fir, cut roughly 32″ long
1) 1/2″ x 30″ black iron pipe
4) 1/2″ x 12″ black iron pipes
4) 1/2″ x 6″ black iron pipes
8) 1/2″ x 3″ black iron pipes
6) 1/2″ black iron T
4) black rubber caps for the bottom of the feet
4) 1/2″ black iron elbow*
4) pipe clips*
* if the wood for the top of my bench had been wider then 12″ I would have used black iron flanges instead of the elbows and clips to attach the wood to the pipe legs.
Here you can see how I put all the pipes together.
This is how I attached the wood top to the base.
This project took about an hour to put everything together. I stained the top using a home made stain mixing steel wool with vinegar and water.
blog comments powered by

Disqus