A community of bloggers who live and die to DIY
How My Laundry Is Cleaner Thanks to Pinterest
As we all know Pinterest is just a wee bit addicting. Pretty pictures, DIY projects, and a whole lot of recipes to help you forget your New Year's diet resolution.
Most of my Boards have to do with home decorating and entertaining, but I do like to scour out cleaning and organizing ideas, since it's an area I appreciate but am none too keen on.
So it was a delight when I stumbled on a zillion homemade laundry detergent recipes. Since I do try to be frugal and am conscious of chemical-loaded stuff, I thought I could do this! I looked at a bunch of the recipes and came up with my own mix. I've already made a batch and I have to say: My wash is super clean and smells fabulous.
I scouted out all the products at Target, including the jumbo-size covered glass canister (kitchen supply aisle). From home, you'll need a kitchen box grater, a large mixing spoon, and a scoop of some sort (I grabbed one of my vintage Fiestaware coffee cups). The essential oil can be purchased at   (C.O. Bigelow)
All the ingredients are "old school" washing products found in any grocery store.
1.) 1 Box Borax (20 Mule Team)
2.) 1 Box Washing Soda (Arm & Hammer)
3.) 3 Bars Laundry Bar Soap (Fels-Naptha)
4.) Essential Oil
Use 1/2 cup per load.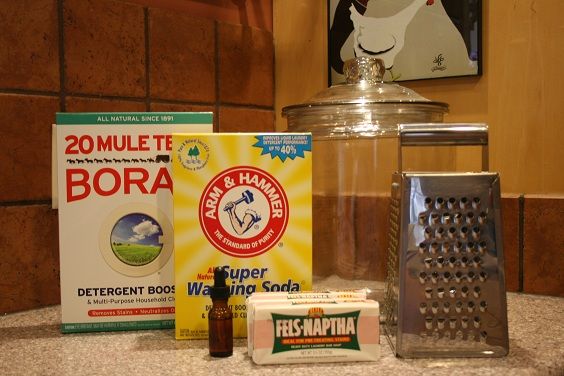 Once you've gathered your ingredients the process is simple. Grate the bar soap. I used the cheese side of the grater. The soap is pretty soft, so to fine-grate it would make a mess.
Clean canister and dry well. Add powdered ingredients and mix well with large spoon. I found it easier to mix in layers than trying to dump everything in at once. I then added some of the essential oil and mixed again.
Start with a few drops and increase to your desired scent. The first time I made a batch I used Tea Tree Oil; with this last batch I used Lavender Oil.
Mix powder ingredients well with large spoon.
Then add grated bar soap to canister and mix. (For this step I just dug in with my hands and mixed well.)
To style the canister—I had some leftover chalkboard wall decal—so I just cut out a label with my Pinking sheers and wrote out the label in chalk. The soapy canister looks sassy on my laundry room counter and, with just a scoop, makes my laundry squeaky clean and fresh!
Visit Tales of an Interior Stylist »
blog comments powered by

Disqus