A community of bloggers who live and die to DIY
DIY Reclaimed Wood Clock
My uncle gave me an old oak dining table and it was pretty ugly and outdated (I hope he doesn't read this). He thought I could paint it and resell it in my store. I love the thoughtfulness, but the table wasn't really something I could sell. Instead I tore the legs off of it and re-purposed it. Now it is a huge clock!
I started off by stripping the table of it's old finish and then staining it a super dark brown using Minwax in Dark Walnut. Then I lightly sanded it with 220 grit sandpaper. Before painting it I rubbed a pillar candle on it in totally random spots. I then applied a heavy coat of paint using a paint brush and a pretty sloppy technique.
I wanted the clock to look very old and distressed, so a perfect paint job was not my goal. After the paint was dry I sanded it a ton with 100 grit sandpaper. Using a spatula I scraped the wax off to peel the paint in a the few areas I had rubbed with the candle. Last, but not least, I used a clear glaze that had a bit of black paint stirred in. I applied the glaze with a damp, clean cloth.
I ordered some large clock hands from Ebay and then anxiously awaited their arival in the mail. As soon as they arrived I went straight to my grandpa's house and he, the expert clock maker, routed out the back and installed the working parts. The cheap parts I ordered from ebay weren't good enough, but luckingly my gramps had some spare parts laying around and he hooked my up. My grandpa knows how to do just about everything, he helps me with lots of projects.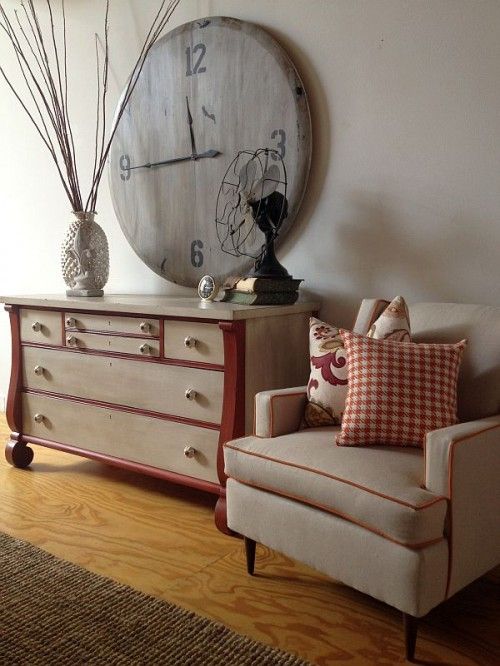 blog comments powered by

Disqus