A community of bloggers who live and die to DIY
Hawthbush Farm by Mole Architects
We bumped into this 17th-century countryside farmhouse on Trendir and thought of sharing the project with you. A more contemporary section was added to the existing house, creating a comfortable and spacious L-shaped living space. Both pavilions were built from red bricks, enhancing the authentic rustic atmosphere. The more recently added section respects the line of tradition but also brings in modern nuances, such as wide floor-to-ceiling windows and a rounded arch-like roof. The Hawthbush Farm is in actuality a 140-acre organic farm, located in East Sussex, England, far from dusty, crowded urban streets.
For those seeking a full English countryside experience, this is it: "the farmland provides rolling wildflower meadows, ancient woodland, cattle, sheep, chickens, streams and arable land." The addition came at the request of the owners, who wanted more space without compromising the original farmhouse's beauty. Mole Architects responded by adding a section that allows far better air and light circulation. The addition, which fits in well with the pastoral setting, offers a unique living experience—especially on the upper floor, where the semi-circular roof works to impacts the interior. On every side, the house looks over an emerald green landscape.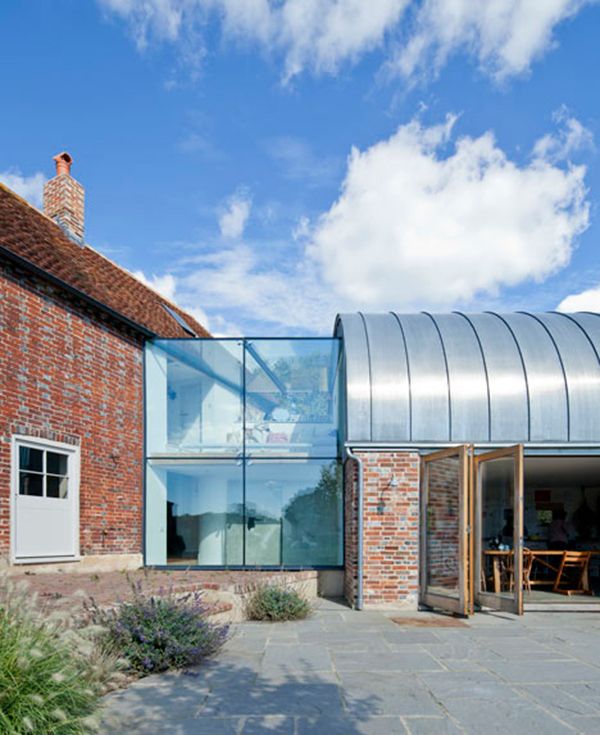 You're reading L-Shaped Countryside Home With Both Rustic And Contemporary Nuances originally posted on Freshome.
Visit Freshome.com - Interior Design & Architecture Magazine »
blog comments powered by

Disqus