A community of bloggers who live and die to DIY
A Beadboard Installation Project for the Ages
We completed our beadboard project!
We were hired to install reclaimed beadboard to the ceiling and bookshelves in Katie and Ryan's sunroom. They had bought the old beadboard on Craigslist, and they wanted us to clean, install, and polyurethane it.
Here's what we did and how we did it.
(If you just want to see the finished project, just scroll to the bottom!)
On the morning of our first day, the guys loaded up the beadboard while I carted our dogs into town to board them for a few days.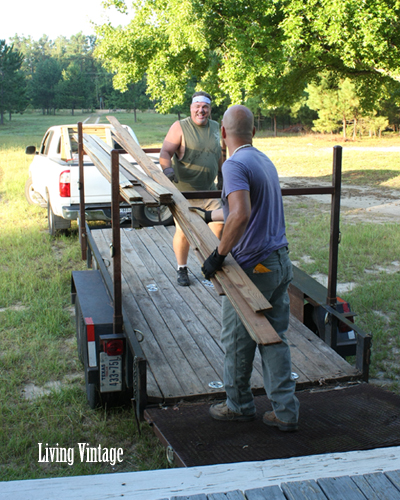 By the time I got back, they were loaded up. (Yay for me!)
After tying everything down really well, we hit the road to Bryan.
We arrived in Bryan right after lunch, and we started unloading all of the old beadboard into our client's garage.
As we unloaded, we took our time organizing the pile by color as best we could. We knew it would make installation easier, plus we could assess how much we had of each color.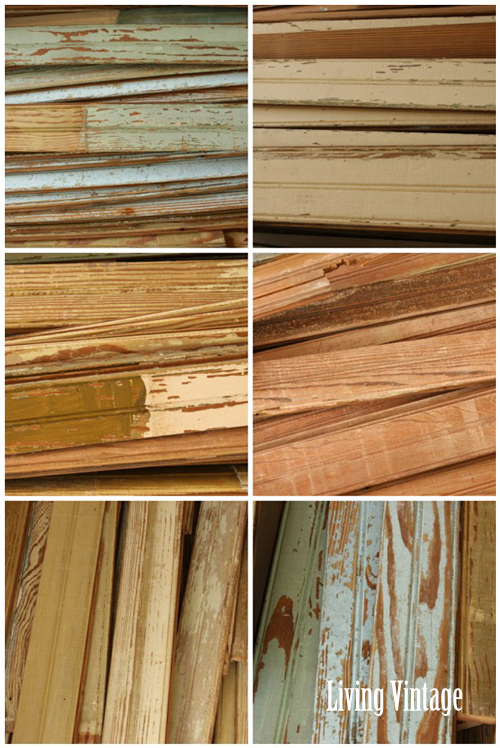 I still can't believe I cleaned all of this!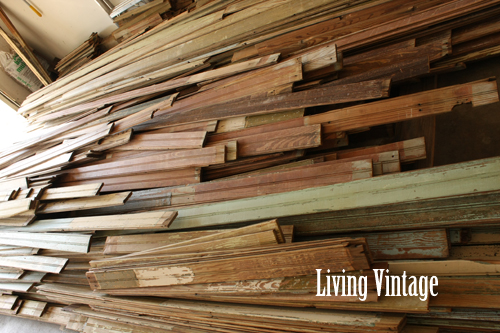 We got right to work in Katie and Ryan's sunroom. This photo shows the room before we did any installation work.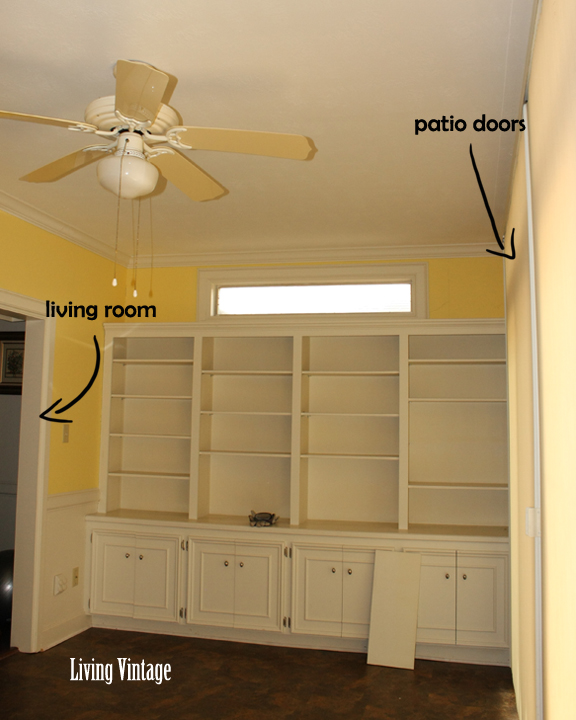 The patio doors in the sunroom open up to a brick patio paved with old bricks. I thought it was so lovely, and if I lived there, boy howdy, would I be spending quality time out there! I admired it multiple times before the job was done.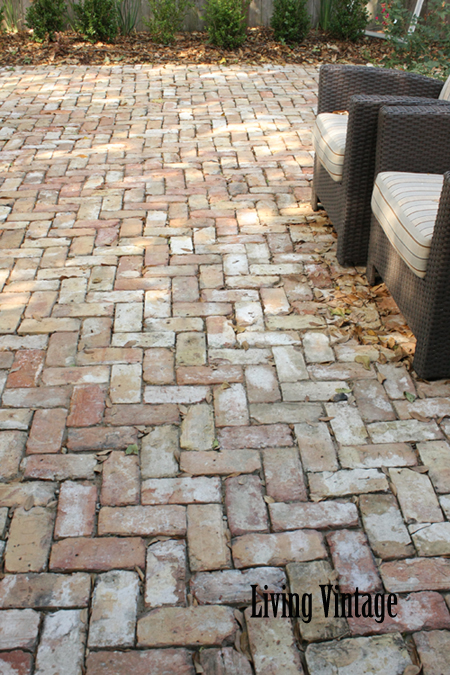 We got a lot of prep work done on the first day.
First, the guys assessed if we would need to install plywood to the ceiling. Fortunately, they discovered that there was already plywood underneath the drywall. So that made our lives easier and the final invoice less expensive.
After that, the guys removed all the shelves in the bookcase, the ceiling fan, the HVAC covers …
Although not within the scope of the project, we also offered to remove a window that originally opened up to the backyard. Katie took us up on that offer.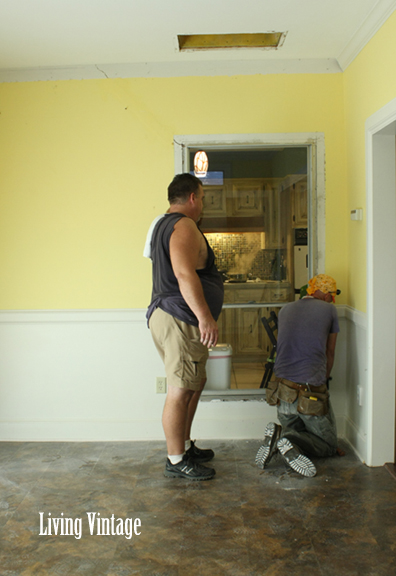 (Katy and Ryan's sunroom is an addition to their home. Whoever originally did the work left the original window in place. I have no idea why.)
We started with the bookshelves first, to get the smaller part of the job out of the way first.
It was a team effort.
John did the nailing.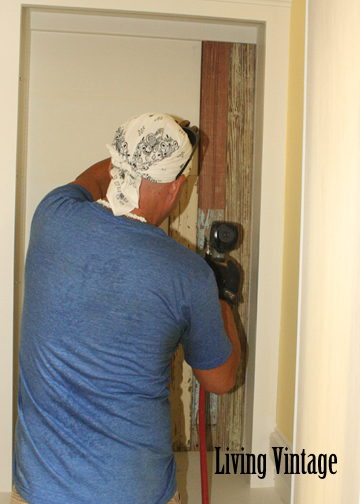 Mark did the cutting in the driveway under a shade tree.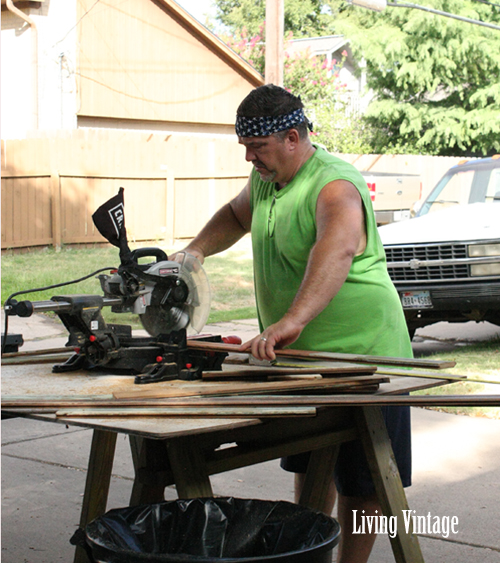 I was the runner and message girl, communicating measurements and color choices. That's what I did the first day, anyway.
Here's what the bookshelves looked like after (almost) 7 rows ….
Here's what they looked like when we were about halfway done.
This is what the bookshelves looked like at the end of the first day~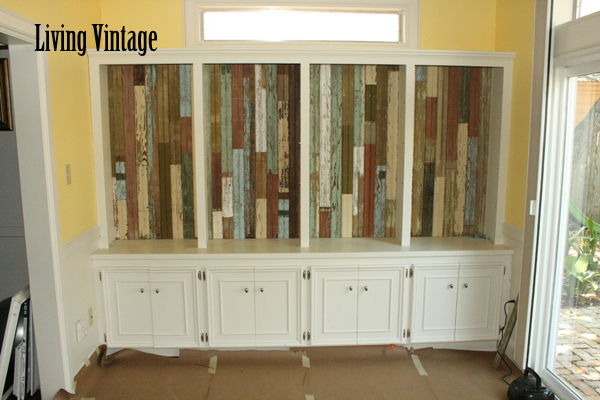 The post Our Beadboard Installation Project in Bryan appeared first on Living Vintage.
blog comments powered by

Disqus