A community of bloggers who live and die to DIY
DIY Painted Buffet
My husband and I scored this buffet at the Rose Bowl flea market for only $40. It had a price tag of $50 on it and when I saw it I tried not to act totally stoked, but I was! As soon as we walked over the person selling it said he'd take $40 for it. Sold! I thought $50 was a killer deal, but $40?!? I can't even try and haggle with that. It was in perfect condition too; made of solid hardwood with dove tail joints.
Of course I had to paint it. I can never leave anything as is, what's the fun in that? I painted most of it with a soft white paint and added a few accents of deep umber. Then I heavily distressed it with 100 grit sandpaper. It still wasn't roughed up enough, so I took a chain to it too. To finish it off I stained the whole piece with Dark Walnut Minwax.
I got the knobs at the new Hobby Lobby that just opened near my house. This store is so totally awesome! I had only read about it on other peoples blogs and dreamed about goingI took my grams with me and she loved it. She keeps talking about wanting to go back.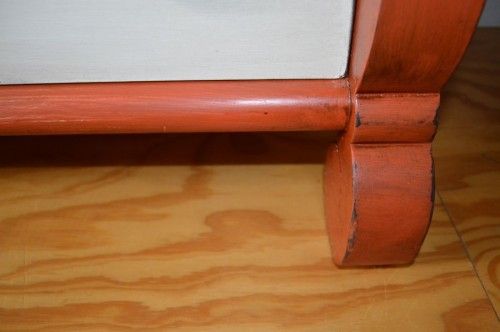 blog comments powered by

Disqus