A community of bloggers who live and die to DIY
Top Tips for Organizing Your Mudroom
An Introduction to Your Home's Launch Pad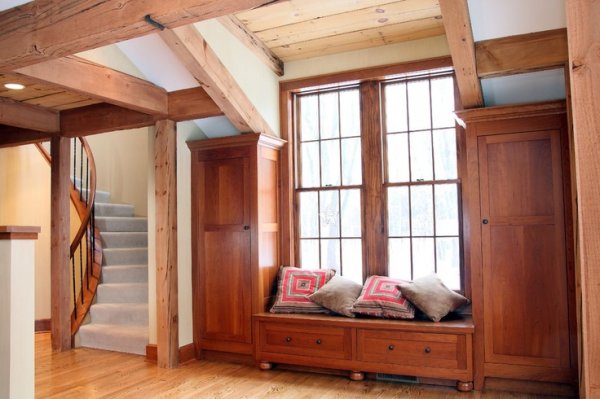 The mudroom, or "family foyer," is a practical use of space, helping people transition between the indoors and outdoors. Whether the kids are coming back from a summer practice or people are tracking in snow, it's your home's launch pad, an area to stash all out-the-door essentials in one convenient place and keep clutter out of other rooms. Here are some tips to keep the mudroom organized and to tailor it to your family's needs.
Organizing your Mudroom
In many of our projects, homeowners incorporate lockers into the mudroom, assigning one to each family member to store coats, shoes, backpacks, and other belongings. Cubbies help family members keep their stuff contained and organized.
Hooks are a great option if homeowners don't have a space to dedicate to a mudroom or want an airy feel. Hang them on a wall or incorporate them into cubbies to keep track of hats, purses, leashes, backpacks, keys, and other accessories.
Include shelves with baskets and bins into your mudroom's design. This is a functional, yet stylish way to store loose items. Group similar objects together, so it's easy to find what you need.
You'll never regret having additional storage. Closets, drawers, and other options allow homeowners to "hide" unneeded or seasonal items.
Your Home's Command Center
Home remodelers often incorporate a "drop zone" in mudroom designs. It's a great spot for mobile phone charging, purse storage, file cabinets, and beyond.
Whether you include a small basket at the drop zone or designate a larger area, a mail station helps you sort letters or bills and keep them off kitchen counters.
Keep the family on-task with a calendar or chalkboard in the mudroom. It's a high traffic area, so it's the perfect opportunity to leave messages or reminders.
The Foyer as a Functional Place
A bench offers a place for family members to sit and put on their shoes. It's also another opportunity to insert storage – drawers, cubbies, or shelves.
Because the mudroom has substantial traffic, often encountering mud and snow, consider a durable, easy-to-clean stone or tile floor.
A mudroom with laundry space is an efficient combination. Family members can peel off soiled clothing or gear right where the washing is done.
A sink, especially if you include laundry in the mudroom, is a useful feature. Rinse off paint brushes, prepare plants, or soak muddy clothes, so people don't mess up other sinks or track in dirt.
Author Info
Amanda Coakley manages design ideas at Bartelt The Remodeling Resource, based in Delafield, Wisconsin. She currently resides in Wauwatosa, Wisconsin, with her husband.
blog comments powered by

Disqus