A community of bloggers who live and die to DIY
Why Renovating Old Houses Sucks: Part 9,453
By 86'n It on Dec 11, 2012
So, let's say you need to thread a vent pipe from a bathroom on the first floor, into your attic above the second floor. (Like the above crappy diagram below.)
Let's say by some miracle you manage to core drill through the second floor wall's top and bottom plates and get a pipe into the attic. So now you are left with having a short horizontal run to get into your future bathroom's wall. Easy, right? That is what I thought after my savior handy man left me to run the horizontal portion. HA! Once I got going, I was left with a conundrum.
This is what I wanted to happen, the mini pen being the vent pipe portion I had to do: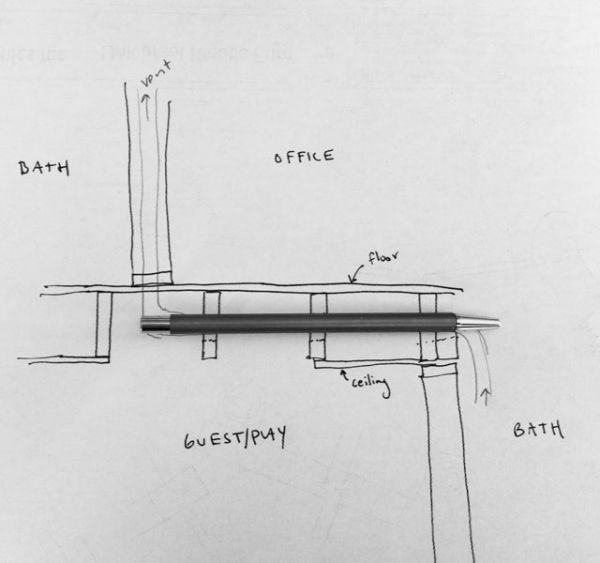 Now, hmm, you try to get that pipe up there. 
Huh.
Keeps hitting the floor above or the edge of the ceiling and not threading through the holes in the joists...
Huh. 
Shit.
This is going to take longer than I thought and I'm hungry!
The solution was actually pretty simple. I just cut the pipe into two smaller sections (see nails below) and was able to get them into place.
ThenI put on a coupling to join them and finagled the hell out of them to get the elbow to the vertical part on:
TADA!
I'm quite the genius when I'm pregnant, trying not to drip plumbing cement into my eye at 7pm hungry as hell.
And if there is an easy way to do this that I did not realize, please don't tell me. It will break my heart.
blog comments powered by

Disqus